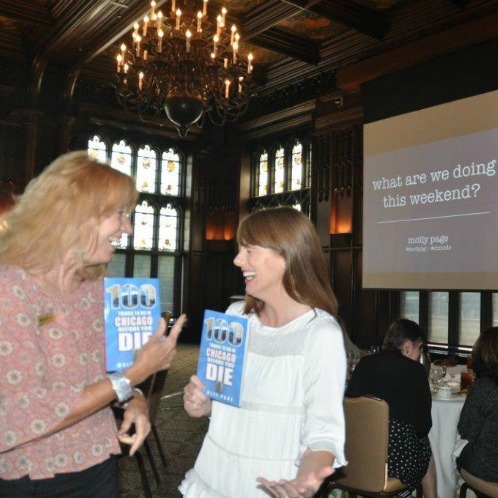 When I was five years old, I was tapped to be the flower girl in a wedding. During a lull in the reception festivities, I climbed on the stage — much to my parents' chagrin — and belted out my rendition of Willie Nelson's "Whiskey River."
I killed.
Ever since that first taste of the spotlight, I've pursued hobbies that put me in front of an audience. Dance performances, speech and drama, serving as a Chicago tour guide; I enjoy what many people dread — entertaining and speaking to a crowd. Professionally, I've learned how to use that superpower to help others!
Whether you need an emcee for your event, an "expert" to sit on your panel, or a speaker to entertain or educate your club or group, I'm at your service.
popular presentations
While I'm always happy to work with you to create a customized presentation for your club or group, I've had success in the past with these:
all the suggestions...
Chicago has a lot to offer, and all those choices can feel overwhelming. How do you narrow down your options?
I want to help! I'll share:
tips for planning your next staycation

ideas for a memorable night out

hidden gems to explore with the whole family
sharpen your skills...
Your "best camera" is the one you have on hand. So how can you make the most of that incredible tool you carry around every day? I'll share:
mobile photography tips and tricks

editing options available for all phones

solutions that make snapping photos more fun
don't bust the budget...
You don't have to spend a lot of money to enjoy exploring Chicago. Let me help you find ways to see the city while sticking to your budget. Frugal can be fun. I'll share:
how to save money on popular attractions

lesser-known alternatives that cut expenses but not enjoyment
what should we do this weekend?
April 5, 2022
6:00 pm
Glenside Public Library
June 9, 2022
7:00 pm
Bartlett Public Library
smartphone photography 101
June 30, 2022
6:00 pm
Hinckley Public Library District
July 15, 2022
6:00 pm
Creston-Dement Public Library
July 21, 2022
5:30 pm
Malta Township Public Library
July 28, 2022
6:00 pm
Bloomington Public Library
August 4,  2022
7:00 pm
Batavia Public Library
August 11, 2022
6:30 pm
Worth Public Library District
February 13, 2023
7:00 pm
Messenger Public Library
July 13, 2023
7:00 pm
Riverside Public Library